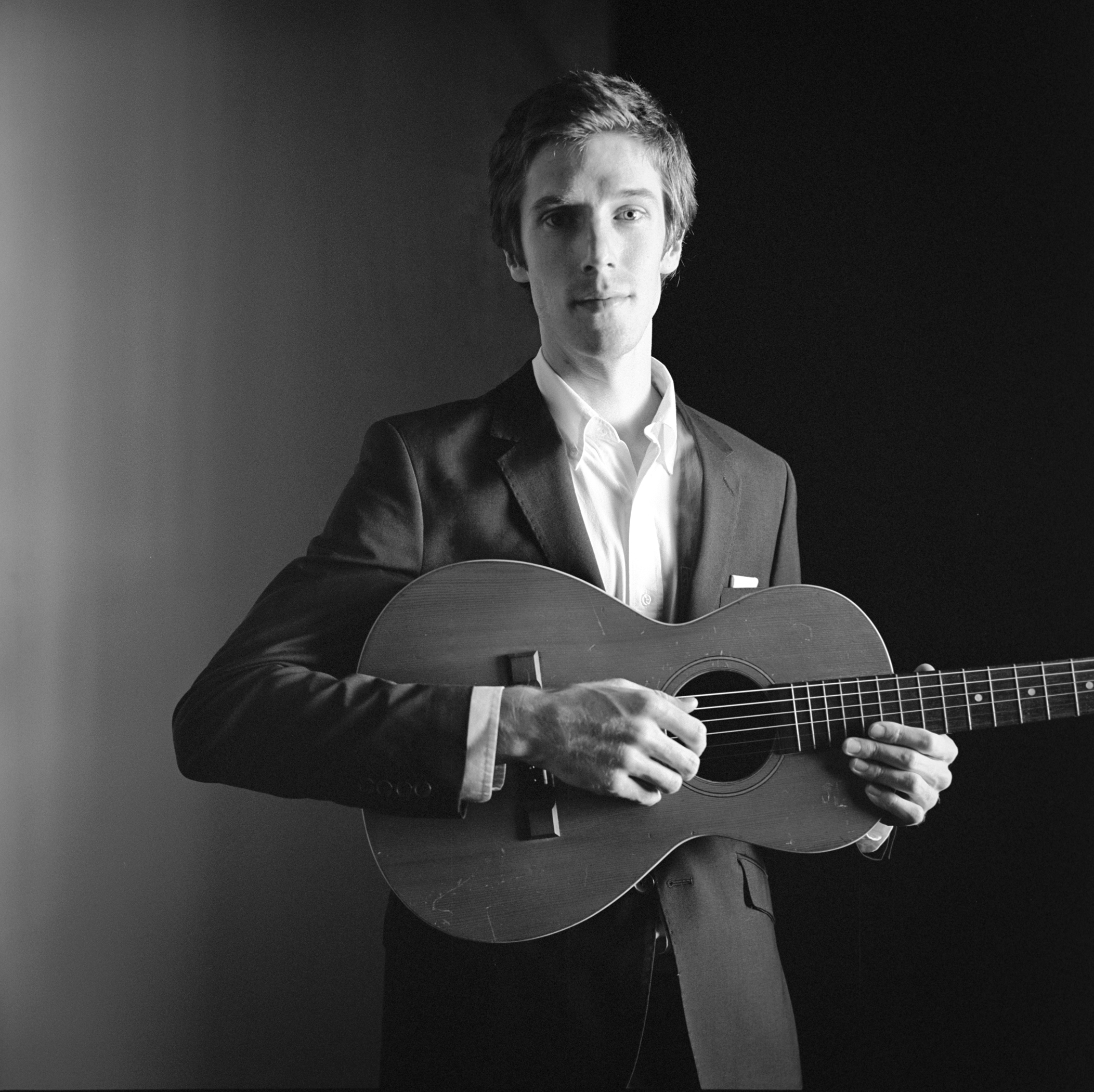 The last time I met
Daniel Martin Moore
(he had just opened for Iron & Wine in the Olympia Theatre) he jerked his hand away so quickly when I offered my own in greeting, I must admit my feelings took a bit of a knock.
Visibly embarrassed by his own instinctive reaction, the Kentucky native quickly moved to inform me that he was suffering badly from a flu and did not want to infect me with any of his germs. This type of selflessness and care is evident in the music the country and folk (and in places even gospel) singer has recorded to date.
Moore
is currently touring his January 2011 release,
In The Cool of the Day
- his third album, which features gospel songs remembered from his childhood as well as a few originally-penned numbers of his own.
I was fortunate enough to catch up with Daniel before he embarks on his tour of the U.K. and Ireland (with the latter including two Cork dates) for a few questions :
Q. Your debut album Stray Age was released back in 2008. Is it true that you simply sent a demo to Sub Pop the year previously and found yourself with a record deal?!
Yes, that is true! It was a fortunate turn of events that continues to make me feel endlessly thankful.
Q. How formal was the reply? Did they just call you back? Was it completely out of the blue or had you a feeling that something was going to happen with Sub Pop specifically?
When I heard back from Stuart (Meyer - Sub Pop), I had forgotten all about sending out the recordings to them so it couldn't have been more of a bolt out of the blue. Stuart's email was something to the effect of "Hey, we got your package in the mail and enjoyed it.". At that point we started talking and I sent them some more recordings. It was a friendly process. The people of Sub Pop are, to the last one of them, charming & interesting folks. I've found getting to know them and working with them to be a joy.
Q. What was going on in your life up until that point?
I was living in Costa Rica, sort of running a Bed & Breakfast in a sleepy little town at the forest's edge. When there were guests, I attended to them as best I could; When there weren't, I rode around the countryside on my bicycle or took the small boat out into the mangroves, or upriver, as far into the wilderness as I dared go, to watch birds.
Q. After heaing you speak of the great Jean Ritchie with such admiration at your live shows it is obvious you hold the lady in very high estee indeed. When did you begin listening to Jean?
I'm not exactly sure when was the first time I heard Jean's unmistakable voice. But I was certainly a child. It probably wasn't until I was in my early 20s that I began to understand her importance as a cultural preservationist and appreciate her tremendous artistry.
Q. For younger readers can you attempt to articulate exactly what she means to you and what you find so incredible about the singer and her songs?
Her voice is pure, like the air & water of her mountain home. Her memory is long, as long as the traditions she carries & brings to us through her performances & recordings. Her judgment is true, listen to songs like, "Black Waters" to understand.
Q. Are there any contemporary artists that particularly stand out for you these days?
I Love the band, My Morning Jacket (is there a finer collection of musical souls?). Haley Bonar is an artist I deeply admire (I think she's one of the best songwriters around).
Q. With your gentle singing style and the songs you have written along the way, combined with your current touring band, you seem to create an intimate atmosphere during your live shows no matter what size the venue happens to be. In the early years did you have any problems picking more suitable venues to your style of music? What I mean is the better known you become the easier it is to attain quiet and respect from the crowd. Have you had any problems in the past or do you feel you are navigating the minefield that is the live gigging scene with a certain degree of expertise these days?
Minefield is a fine descriptor for the circuit sometimes. (Mind if I use that in the future?) It can still be a challenge sometimes, especially at bar-venues, but things have gotten better for us in this last year, definitely. As you've said, we're a very quiet band, but fortunately we've been able to find venues that allow us to do our thing.
Q. Tell us more about each member of your band and what you feel they contribute to your current sound.
For this next UK/Ireland tour, we'll be a duo, just me & Daniel Joseph Dorff. But here're all the folks I've been touring with of late:
Joel Thomas Runyan : Joel has been in my band the longest, since the spring of 2008,when I first started thinking of putting a band together and gearing up for the release of Stray Age. He plays mandolin, piano & guitar. Joel knows the songs at least as well as I do, and is as thoughtful a player as you could find. And his beard gives our outfit its indie cred!
Ric Hordinski : Ric is a reknowned guitarist who's been playing with us for about a year. It's the first time we've had an electric guitar in the mix, and Ric's approach is subtle and beautiful. Ric also has a beautiful studio in Cincinnati, OH where we've done some recording and mixing (he mixed the In the Cool of the Day album there).
Joan Shelley : Joan is a wonderful songwriter from Louisville, KY who has released one album so far, with another (that I produced back in January of this year) coming out in the very near future (stay tuned for that one - the songs are performances are breathtaking). Her voice is timeless, and I've been lucky enough to have her singing & playing banjo at many of our shows this year. Also, Joan is 1/3 of Maiden Radio, a fantastic trio whose 2nd album was just released on my new record label, Ol Kentuck Recordings.
Daniel Joseph Dorff : DJD is the man (and a good-hearted man, too). He's the best drummer I know, a brilliant pianist/organist, the linchpin of the band. He's traveled all over the world bringing music to the people, from coast to coast in these United States, from Casablanca to Istanbul. He's friend to the world, take my word for it.
Q. At both your gigs I was fortunate to attend back in March you enlightened the crowd on the topic of "Mountaintop removal", a phrase I personally had never even heard before. Obviously the subject strikes a chord with you personally. Would you mind explaining the term for readers of the blog?
I'll do my best, but they should really visit www.ilovemountains.org if they're inclined to learn about it more properly. MTR is a blight upon the earth. It's an aggressive & overblown form of strip mining that has destroyed hundreds of thousands of acres of Appalachian forest and buried or adversely impacted several thousand miles of streams & rivers. The promise of quick money via MTR operations has divided communities & households and convinced people who need and want good work to blow up their own homeland. I have no love for it. Though the economic situation that drives it is complex, I still feel confident in my opposition to it because the core of it is short-sighted greed and disrespect for a land, its people, its water & its traditions.
Q. 100% of the profit from Dear Companion went (and is still going) to Alliance for Appalachia. How did the album (a collaboration with Ben Sollee and produced by Yim Yames) come into existence? i.e. Was it your idea? Did ye know each other beforehand? Were you involved with the Alliance for long before the album came about etc.
Just to clarify, Ben and I are donating our artist royalties to Appalachian Voices, one of the member groups in the Alliance for Appalachia (App. Voices maintains the ilovemountains.org website, as well as helping people with water testing initiatives & all sorts of other support). The idea for making some recordings together came about shortly after Ben & I met in 2008. Originally it was going to be an EP, and it was YY's suggestion to make it a full-length album. Before the record, I'd been working with an amazing group called, Kentuckians for the Commonwealth (KY is one of only a handful of Commonwealths in the USA). They do a lot of similar work to App. Voices, but focus their efforts on our home state, and do other social justice work as well.
Q. Alot of musicians nowadays have multiple side projects running simultaneously. With the experience of the Dear Companion collaboration have you lined up many (or any) further projects or is all your energy focused on your own writing an playing?
There's lots & lots going on all the time it seems, and I'm thankful for it. I've started a record label (www.olkentuck.com), we put out our first album, the second record from the Louisville, KY trio Maiden Radio exactly 2 weeks ago, with 2 more fascinating records from fascinating artists in the works. I've begun a new album of my own a and couple other recording projects. Joan Shelley's 2nd record is about to get a release date. And we're planning a tour for early next year, too.
Q. Be it touring, writing or recording what's next for Daniel Martin Moore in 2011?
Touring, and lots of it. We've got 17 shows in England, Scotland Wales & Ireland coming up in about 2 weeks. After that I'm spending a bunch of time with my family and will really dive into recording over the winter.
Q. Ever played the animal game before? (Basically you begin with one letter, eg. 'A', and everyone has to name an animal beginning with this letter. The person who cannot name an animal beginning with 'A' loses one life).
The easy animals such as 'Fox' are always taken quite early so can ye give me a rare animal beginning with 'F' that I can use as back up for the next time I play the game myself? A description of the animal would also be helpful as people tend to try and make up names as well as using mythological beasts! The Wilderness of Manitoba said 'Degu' (a small rat) to 'D' which was far more imaginative than Megafaun's 'Cougar'.
The Falkland Steamer Duck. It's a rare bird, as they say, found only on the Falkland Islands and flightless at that. I recently learned of it's existence while reading about various South-American non-migrating birds. There's no way anybody would beat you to that one!
Full Daniel Martin Moore UK and Ireland tour listings :
Sep 01 Leeds, Brudenell Social Club
Sep 02 London, St Pancras Old Church
Sep 03 North Dorset,
End of the Road
Sep 04 Hull, The New Adelphi
Sep 06 Glasgow, The Captain's rest
Sep 08 Newcastle, The Cluny
Sep 09 Liverpool, Scandinavian Seaman's Church
Sep 10 Cardiff, Buffalo Bar
Sep 11 Cork, The Bowery
Sep 13 Dublin, The Workman's Club
Sep 15 Lahinch (Clare), Kenny's
Sep 16 Ratoath (Meath), Venue Theatre
Sep 17 Galway, Róisín Dubh
Sep 18 Limerick, Dolan's
Sep 20 Wexford, The Sky & The Ground
Sep 21 Clonakilty (Cork), De Barra's
danielmartinmoore.com
*An edited version of the above appeared in the Downtown section of the Cork Evening Echo on September 1st.