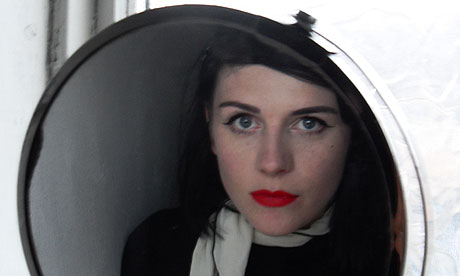 Hard to believe the last crumbs of February are already set to be hoovered up but what is very believable is the fact that Cork is set for another week jam-packed with musical goodness.
Gig of the week comes from
Plugd Records
in the form of London's
Paper Dollhouse
who will grace the
Triskel
auditorium on Saturday (Feb 25th) with gothically-twisted, minimal folk. For those who missed the interview with
Astrud
from
PD
click here
to catch up.
GoodCop "Do not mention Jonsi" BadCop
promote an early
Crane Lane
show featuring a triple bill of the the U.K.'s
Poino
(featuring members of
Giddy Motors
- check the blog later this week for an interview with frontman
Gaverick De Vis
),
The Richter Collective
's
Hands Up Who Wants To Die
and the recently awakened from hibernation
Private Underground Residence
. All three play on Thursday (Feb 23rd).
Another gig definitely worth a mention (hopefully) sees the return of another
Popical Island
group in the form of
Grand Pocket Orchestra
- set to release new album
Ronald and Sylma
on Friday - on Thursday night in....well we don't know where due to the closing of
An Realt Dearg
's doors. Will keep you posted once the new venue is confirmed.
Elsewhere we have electronic workshops and performances aplenty in
The Pavilion
with the Cork leg of the
Lightbox
tour featuring
Bantum
,
Reid
, visuals from
Feel Good Lost
and more on Thursday (Feb 23rd); Passage-West chanteuse
Camille O'Sullivan
entertaining the
Opera House
on Friday (Feb 24th);
Former Monarchs
and
Hope Is Noise
assaulting eardrums in
The Pavilion
that same night.
Sunday (Feb 26th) wind-down comes in the form of
Carried By Waves
ear-massaging electronica which should feature his recent excellent remix of
Ten Past Seven
's
'Orientation'
in
The Pavilion
as part of The Sunday Sessions and/or folk-fillies
The Henry Girls
rootsy but heavenly harmonies in the
Half Moon Theatre
.
Monday, February 20th
- Hank Wedel & guests in The Crane Lane Theatre

Tuesday, February 21st
- Candle Sessions with Hank Wedel & Edel Curtin in The Pavilion
- Jazz Improv in The Crane Lane Theatre (8pm)
- Jawbone in The Crane Lane Theatre (11pm)

Wednesday, February 22nd
- Bounce Back: A Month's Mind featuring Brian Deady, The Papa Zitas, The Roaring Forties, The Booty Band and GMC in Cork Opera House
- Eddie Reader in The Pavilion
- Fireside Sessions with Sara Corkery and Brendan Butler in
Mr. Bradley's of Barrack Street
- UCC Battle of the Bands - Heat 3 in Cyprus Avenue
- Dead School and Half Man Part Bicycle in An Bróg



- Hysterical Injury in The Crane Lane Theatre (11pm)

Thursday, February 23rd
- Foxglove in The Roundy
- Lightbox Tour with Bantum, Feel Good Lost, Monto, Reid, Sert One, Simon Bird and Tenaka in The Pavilion
- Poino, Hands Up Who Wants To Die and Private Underground Residence in The Crane Lane Theatre (8pm)



- White McKenzie in The Crane Lane Theatre (11.30pm)
- Earthstar Presents Blissful Dreams in The Pavilion

Friday, February 24th
- Camille O'Sullivan in Cork Opera House


- Red Herrings in Charlie's Bar
- Mako in Cyprus Avenue
- Siomha Brock and Leaflog in The Crane Lane Theatre (8pm)


- Fish Go Deep in The Pavilion
- Queen Elvis in Connolly's (Leap)

Saturday, February 25th

- Tres Hombres in Crowley's Music Centre (5pm)
- Plugd presents Paper Dollhouse in the Triskel
- Cluekid in Cyprus Avenue *Edited - was Cashier No. 9 on April 19th


- Popical Island presents Grand Pocket Orchestra (album launch) and Saint Yorda in An Réalt Dearg (Venue to be changed)


- Rise Up presents Cluekid in Cyprus Avenue
- Spaghetti Western Orchestra in Cork Opera House
- Niall Connolly in The Roundy
- Queen Elvis in The Crane Lane Theatre (8pm)
- Former Monarchs with special guests Hope Is Noise in The Pavilion


Sunday, February 26th
- The Henry Girls in Half Moon Theatre


- Tenonsaw (EP launch) in The Roundy
- Bangsambra in The Crane Lane Theatre (10.30pm)
- Carried By Waves in The Pavilion