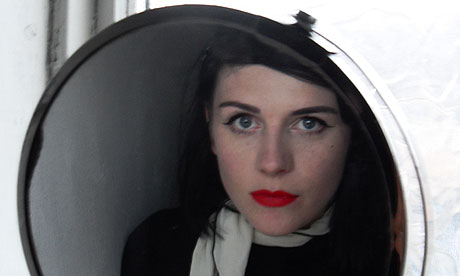 Photo by Nina Bosnic
"Well it started with Dr. Who..."
Paper Dollhouse
is the solo work of
Rayographs
' frontwoman
Astrud Steehouder
.
A Box Painted Black
- her minimalistic, gothic folk debut offering - was released on
Bird Records
(an offshoot of
Finders Keepers
) in 2011 with
Steehouder
taking further time off from
Rayograph
duties to tour the record in 2012. This tour includes two upcoming dates in Ireland with
Paper Dollhouse
playing on Feb 24th in
The Joinery
(Dublin) and, thanks to those lovely folks in
Plugd Records
, Feb 25th in the
Triskel Arts Centre
in Cork. Both dates will see
Astrud
accompanied by
Nina Bosnic
who features on
A Box Painted Black
and has provided much of the photography for
Paper Dollhouse
.
A chat was had with
Astrud
before the upcoming tour dates which you of course can read below.
Were the songs and ideas for A Box Painted Black formulated over the years or did you consciously take some time out from The Rayographs to write a solo album?
It was while we were having a quieter band period and I had this other type of stuff turning round in by head. The actual album itself came about very quickly, mainly because I didn't intend it to be a record. They were just a host of songs/ideas I was working on and recording into my Mac testing out garageband. It's why the quality of the audio is like that, because it's recorded with the skype in-built mic. I felt sorry for the guy trying to master it.

It was only later that I thought that somehow I thought the naive way they'd been constructed reflected something, an openness perhaps that you don't have when you're aware you're supposed to be recording. Like how your behaviour may change if you're not aware anyone's watching. Also, some of the tracks were entirely improvised, like 'William' and 'I Dreamt You More Than Ever'. 'William' is a song where Nina [Bosnic] wrote some lyrics on the way to my house and I just sang and recorded while I was reading the words as she handed them to me. That's the version you hear, and why some words are just sounds, because I can't read the handwriting. 'I Dreamt You More Than Ever' is just a collage but there was something pure about the way it came about, me and Nina playing guitar in her room, adding some water sounds etc.
At what point did you realise - "I have an album here"?
Probably when I went to New York at the end of the summer, had some time away, then came back, got sick and was in bed and thought the tracks actually made sense as a record.
Who designed the gloriously dark cover?
Dom Thomas- all the [Finders Keepers] records have ace artwork. Andy Votel does the rest. They're all wicked. I had the Valerie and her Week of Wonders record in my room as ornamentation for a long while before I had any personal connection to the label.
During the recording/writing/evolution of the album did you at any stage surprise yourself or veer off in an unexpected direction?
Well I guess in the sense that I was writing folk songs then I came out with stuff like 'Moon' which was a bit of a departure, but I was happy with that because it's definitely more the direction I'd take stuff in I guess, go further down the instrumental/atmospheric route rather than straightforward songs. Actually 'Ice Storm' is an old track that I thought fitted well; I've always made these moody keyboard melodic chunks of sound probably way more than songs actually.
Moon
by
Paper Dollhouse
Your "folky" side, probably not as obvious with The Rayographs, really shines through on the album. Was there any point where you felt vulnerable recording just you and a guitar as opposed to the fuller Rayographs sound?
Yes at times. Mainly when I hear the sound as sometimes I miss the layers and textures you gain from multiple instruments/vocals, however I'm looking into ways of doing this with equipment at the moment. I think that vulnerability is there on the record, it's raw. But it sort of had to be like that. Sometimes I miss the social aspect of band stuff. When you're collaborating with people you work differently and it opens up ideas that you were unaware of in your solipsistic bubble. And that's really good. Though I do feel the need to produce stuff fully on my own sometimes, especially when I'm learning my way around new things.
I'm playing shows in Ireland with Nina who is on the album and was a quiet collaborator on some of it in a way, especially in the summer when those songs were formed, sharing ideas around that time and taking photos. We're working on some collaborative stuff for live so it's interesting for us and keeps it relevant rather than just adding odd backing.
And, going by the Rough Trade footage of your duet with Pete Molinari, you are no stranger to country either. How did that seemingly unlikely yet sublime duet come about?
I spent the summer before I started doing solo stuff doing some shows with him and his band. It was a lot of fun and a great experience for me, getting to go to Maida Vale and Royal Festival Hall playing piano in the dressing rooms. I met him via Nina in Rochester near where's he's from and asked me to do some singing with him. Pete's got a very clear vision about the music he's making and it was very inspiring to be around because he's got a joyful attitude about life and experiences. I was thrown in at the deep end with all that but it was probably the best thing for me at the time. He'd just released A Train Bound For Glory which was recorded in Nashville and had a real country rock and roll feel which was pretty much the polar opposite to what i was doing with Rayographs so it was fun and refreshing to do something so different.
His first album was recorded in Billy Childish's kitchen on a tape machine and it's a great record, so I guess that to me that was a subconscious inspiration or validation to release the songs in a very unproduced, snapshot form. The duet was written by Billy Childish I think, it was originally sung with Julie, Billy's wife. It was pretty spontaneous to do that song in Rough Trade. I have a massive respect for country but know little about it. There's a mysterious coolness about some of it. In fact I did work experience at that Rough Trade shop when I was 16 and I remember everyone being into country. Yarns interweave...
Any chance of an official collaboration on record in the future?
I really don't know- maybe!
You featured recently on a Mojo Leonard Cohen compilation. When did you start listening to Cohen and where, if anywhere, do you feel his influence appears in your music?
Probably when I was about 19 or 20. He's a very good songwriter. I have a lot of respect for the man. I really like the haunting backing vocals on his records as well. They work well with his voice I think.
BONUS TRACK: Last Year's Man (Paper Dollhouse)
by
MOJOmagazine
What specifically attracted you to recording a version of 'Last Year's Man'?
I had a choice of a few songs as quite a few had been covered. I like the lyric about Joan of Arc playing with her soldiers in the dark. It's completely full of religious hyperbole and pretty melodramatic but I thought I'd take the tone I saw in it and reform it somewhat.
"I met a lady, she was playing with her soldiers in the dark
oh one by one she had to tell them
that her name was Joan of Arc.
I was in that army, yes I stayed a little while;
I want to thank you, Joan of Arc,
for treating me so well.
And though I wear a uniform I was not born to fight;
all these wounded boys you lie beside,
goodnight, my friends, goodnight."
Do you still or do you ever buy music magazines? Do you feel the music mag is a dying art?
I got this Mojo edition and have The Wire in my bag. I think there's a need for a varied music press; it's nice to hold something in your hand to read. Blogs and sites are good but I tend to have the classic Google generation attention span of a goldfish so it's hard to stay on the page.
Obviously Paperhouse made an impression on you. Are you a horror fan in general?
Horror films tend to scare me but I'm fascinated by them. I'm not into the slasher variety, it needs to be more meditative in general though Dario Argento stuff is so colourful and the deaths so inventive and visually spectacular that it's hard not to find them cool. It's strange films like La Classe de Niege which stick with me, ones I'm not sure if I dreamt scenes of them or not. Most disturbing horror film i've ever seen is Funnyman.
This is just brilliant: http://en.wikipedia.org/wiki/Three..._Extremes
Your inspirations include Delia Derbyshire and Eliane Radigue. In what ways have these pioneers shaped your vision of music and sound?
Well it started with Dr. Who theme, the quality of it was so potent, analogue wonders...and White Noise/An Electric Strorm made a big impression on me when I heard it. Eliane Radigue's stuff is just totally hypnotic, ambient tonalities and drones but there's so much in them. It's a really physiological way of hearing the sound, like she's guiding you along with her mode of being at the time. I haven't at all got to the stage where these influences will come through, but they will as i feel like i really identify with how and why that stuff is made. Plus I do like a synth.
Electronic music in some ways is still relatively new but it is extraordinary to think both Derbyshire and Radigue were experimenting with electronics in the early 1960s (late 1950s in Radigue's case) isn't it?
People will always explore the technology of their age and modify it to their needs, it's a progressive process. The importance in pushing the boundaries of sound and production is a concept that is very exciting to me, in a small scale beginning to explore stuff myself but mainly to come across ways of producing sound that others have devised that i'm amazed by. Whether that be through methods of recording, unusual pairings of elements, depth of sound, or really complicated beats. It interests me a lot.
How did you end up listening to Derbyshire, Eliane Radique and Scott Walker also?
Delia Derbyshire at intervals starting with a Rough Trade Electronic compilation, which is really good incidentally- I got it in Australia years ago and totally rinsed it, then White Noise and youtube I expect. Eliane Radigue by John Hannon the guy that recorded our Rayographs album who was always feeding us interesting music we'd never heard of that was brilliant, and Scott Walker through an ex-boyfriend who was very into him. It took me a while to appreciate some of the stuff but then I heard Tilt and The Drift and watched the film of him hitting a slab of meat for the sound (Scott Walker: 30th Century Man) and thought this guy's amazing. 'The Old Man's Back Again' is great as well.
Either live or recording, what do you "get" from Paper Dollhouse that you don't from The Rayographs and vice-versa?
Mainly the two types of sound. But obviously it's generally more fun hanging out with a band than on your own. Travel is probably easier on your own and the way i make music is different. Because I've been using software more recently it's easier or makes more sense to work alone but sometimes i miss someone else's idea that spins things off into a different direction.
The theatre in the Triskel Arts Centre in Cork is great for screening video footage behind performers. How interested are you in the visual aspects of live music?
Yeah definitely; it's an area I'd like to explore more but have really concentrated on the music side so far. Nina and I hope to use projections for future shows and have used old slide projector in the past which creates a nice light onstage.
I have visions of you performing onstage solo in the middle of an open-sided dark, David Lynchian, creepy dollhouse. If you had an unlimited budget what kind of stage props/design would you go for?
Haha! Yes that would be cool. Well I'm pretty obsessed with the idea of using reflective pools of water and smoke so we'll see if that ever transpires...
- Paper Dollhouse plays The Joinery in Dublin on Feb 24th and the Triskel in Cork on Feb 25th
- Tickets priced at €6/8 (Cork) and available on the night or from Plugd
- Support in Cork will be provided by School Tour
paperdollhouses.blogspot.com
www.facebook.com/Paper-Dollhouse
rayographs.com
www.finderskeepersrecords.com
www.triskelartscentre.ie
plugdrecords.blogspot.com
thejoinery.org
Daisies
by
Paper Dollhouse