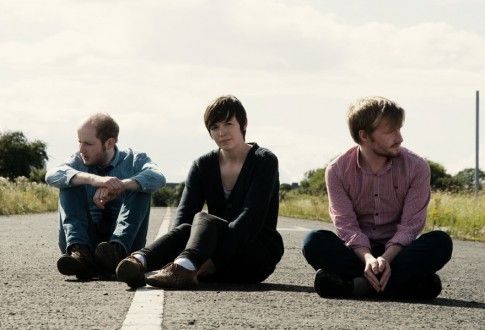 "We'll stand by the courage of our convictions."
Intensity is a recurring word when Dublin's
The Ambience Affair
are involved.
Originally a duo consisting of guitarist/vocalist/songwriter
Jamie Clarke
and drummer
Marc Gallagher
, the swirling cyclone that is today
The Ambience Affair
's fearsome live show was not complete until Galwegian multi-instrumentalist
Yvonne Ryan
arrived, evolving the band's dynamic with the addition of piano, bass, guitar and extra vocals.
2011 alternative rock release
Burials
made plenty Best of 2011 lists including #2 over on
CockandBullTv.com
and #14 on 2FM's
Dan Hegarty
's own personal
Irish Top 50
with the trio launching the album with a short tour back in November and a coming tour set to build on the good work done so far.
Before said tour kicks off on Thursday night (March 8th) in
Bourke's Bar
down Limerick way, frontman
Jamie Clarke
was on hand to answer a few questions.
The G-Man : So, looking forward to your Spring tour?
Jamie : Yeah, it's going to be great to see how people have reacted to the album after hearing it for a few months.
How have you been coping with the "unnecessary pressure" you lump upon yourself before introducing a new element to the live show?
Ah, that's just something which tends to happen. I just get these ideas that certain things may work really well in the live show, except I usually don't realise until a week or so before the tour begins. Hopefully it'll all work out.
What has been the most extravagant stage "happening" that you have ever tried to add to the live show?
I don't think we do extravagance well to be honest. I guess when we supported Lisa Hannigan in Vicar St. in December, we decided to have live visuals. This was a pretty bold move in my view because a support band usually don't take over the entire back wall. Lisa and her crew were totally cool with it and we think it looked amazing.
How much better do you feel The Ambience Affair are these days compared to that first tour of Burials?
I know it's a generally used cliche but we're definitely growing as a band more and more with each passing rehearsal/gig. I've found that the best way to work in a band is for each person to find their role and to try and excel in it. Before, Marc and myself were so tightly knit. We'd played a couple of hundred gigs already and knew our strengths and weaknesses and had our own dynamic.
When Yvonne joined it was very much out of necessity, which was the only way it could have happened. We reached a place musically where we needed something else. Initially it was just to play bass on the songs that I couldn't play bass on but, after the first rehearsal or two, we began to realise how important having her in the band was. We do such a specific thing musically - with the loops - that not many people could just walk in and play with us. Keeping time with the loops is integral to our live show and it's a hard thing to do. I struggle with it often still. Not only did she walk straight in and understand the nature of our song structure, but she brought vocals, piano and a second acoustic guitar to the fray. This instantly gave us so much more scope for the new songs.
And how better equipped do you think the three of you are to cope with both the mental and physical aspects of touring these days?
I think the maximum amount of shows in a row we've ever done is four and we're going to equal that on this tour. In international terms, we've not even scratched the surface compared to some artists we hold in high regard. I think Caribou did 260 shows last year which is a crazy amount. I think it's something that we'll deal with when it happens but for the moment, we're just concentrating on the shows in March.
Attendances were not as good as you hoped they would be on the Burials tour were they?
I think I can be naive in terms of expectations versus reality; Being confident in the album you've put out can mask over the actual reality that not everyone will be as excited about it as you are. I lived with the album a lot longer than anyone who listened to it when it was released and forgot that it's a very dense record that does require time before it becomes rewarding.
On the whole there is a plethora of reasons as to why our expectations weren't met during the last tour. Will whoever is reading this come on Saturday? I've always said that we'll stand by the courage of our convictions. For the last tour, we promoted it to the best of our ability, we performed well every night, had excellent visuals, had the best sound engineer we could afford. Toured on the back of releasing an album we're immensely proud of. From our end it is all there, we're doing things the way we think they should be done and will continue to do so.
Tieranniesaur are allowing anyone who turns up with a home-made drum free into their Whelan's gig this week. What do you make of band's trying something new to try and improve numbers at their shows? Have you come up with any ingenious ideas yet as regards getting bums on seats?
I don't think we're a band that could pull off that kind of gimmick. It can definitely work for some bands but you're not going to see a beach ball flying around the crowd during one of our shows. This will probably sound like a bullshit answer, but the ingenious idea will always remain the same: continue to write compelling, original songs that we're proud to play and eventually more and more people will pay money to see them performed live.
Be it critically acclaimed international or local band the poor turn-out nightmare happens to the best and worst of acts. I remember seeing The Besnard Lakes in Cork (who were later that month nominated for Best album in Canada) with barely anyone there yet it seemed to inspire them or something with the night finishing up as one of the best gigs I have seen in years.
Have you ever experienced anything similar?
When we have a poorly attended show, we just try and play to the best of our capabilities. The fewer people that are there, the more important the show becomes.
How bad would it be for the few that did bother to attend if your performance was sub-standard?
You need to remember that regardless of whether you're a successful indie band touring the world, or you're just trying to make a few waves with the music you make that you're extremely lucky to be doing so. That should negate any right to a full house you think you should have.
What are the plans for the new album?
We've a fair idea where we want to take our sound going forward. I think we're very lucky Yvonne joined when she did as she gave me new impetus on how the songs could be constructed, it was like a fresh start. We're going to take a step back and not cram as many things into each song. I'm very excited to see what people think of our newest songs, as they are some of the best we've ever written.
Going by your latest blog post, would I be right in saying you are a little conflicted concerning many aspects of the upcoming recording sessions?
You can just have people in your ear telling you what way they think it should be done and they're full of good intentions but ultimately it's up to us as to how we want to record it and how we want it to sound. We won't deviate too much in terms of writing original sounding songs, that's something we're very focused on. If we jam something out and the song even has a hint of something else about it, we'll generally get tired of it and it won't be entertained anymore. When critics were mentioning how specific parts in some songs on the album sounded similar to others, we were pretty baffled!
Am I right in saying that Yvonne did not appear on Burials? It must be exciting for her to finally write and record as part of The Ambience Affair?
Yvonne played on a few tracks, ones which we thought needed an actual bass player on them. Also, I was laying down basslines I knew I wouldn't be able to play live. From a songwriting perspective, having her in the band now is almost like being in a new band. We're very excited as to what we can achieve with the second album.
You are very open and honest with your blog posts. When and why did you start a blog section to the official site?
We started it before the album came out and I think it's a good thing to have a member of the band speak about songwriting and what it's like to be a musician nowadays. I want people to know who we are and what we're trying to achieve. It's proved to be a very useful tool for us, because I'll write something and it may highlight something that another band member was feeling and we can talk about it. We all need to be on the same page and wavelength in order to succeed and I think the blog helps that.
What kind of feedback do you get from readers as regards what you post?
I've no idea how many times it's read, but the guys in the band and our manager Mark seem to think it's a good thing. People appreciate when someone talks openly about the thing they love doing and I guess that comes naturally to me.
Your facebook page contains quite a comprehensive list of artists that you cite as influences. Would I be right in saying that you keep up to date with contemporary music?
Most definitely. I'm always interested in the future of music and artists who strive to create unique works. It's also one of the best feelings in the world when you stumble upon a talent that blows you away and makes you strive to become a better songwriter and musician.
Who among you is the biggest music "nerd" and why?
I guess we all are. Music is a huge part of all our lives especially with Marc & myself both still working in the same music shop when we're not writing or rehearsing. I think that in order for it to work, a huge amount of time needs to go into it and that's something we all realise.
Do you have much (if any) time these days to attend gigs as fans? What has been the best gig you have been at in the past 12 months and what gig are you most looking forward to in the not too distant future?
If not writing/recording/working/rehearsing we do try and attend as many shows as we can. In the past 12 months I suppose nothing can compare to Sufjan Stevens in the Olympia. I learned so much at that show, from stagecraft to design to performance, it was incredible. He definitely is a living genius.
You come from a singer/songwriter background. Was it difficult making the transition from solo singer-songwriter to full band?
Although I was one man with an acoustic guitar and a loop pedal, I never really wrote 'singer-songwritery' songs. When I took it seriously, I knew that people would be put off if I used my real name when performing. I started off nearly 5 years ago when everyone was still hungover from all of the various songwriters that had taken over previously and there was a certain stigma to it. I knew I wasn't writing stuff like them anyway, but to solidify that I came up with the stage name.
Do you still write solo acoustic songs that could appear on a solo project some day or is it 100% The Ambience Affair these days?
I do yeah, I enjoy writing traditional folk songs but I tend to get bored of them very quickly. Always in the back of my mind i'm thinking "I can probably write these songs in 10 years time" and that there's plenty of time for me to release a folk record. Ambience Affair takes up so much of my time anyway, that my focus is always on coming up with better ideas and structures to take to the band.
It was great to see at the recent Popical Island gig in The Pavilion, Cork the members of each band up front row, centre supporting their own friends/mates. Are there any bands that you are particularly chummy with and consider good touring partners?
John and Conall from We Cut Corners are two of the nicest people we've met in the business and we toured together last year.We also meet up from time to time and chat about all things music. I'm so happy for them that their album (Today I Realised I Could Go Home Backwards) got nominated for The Choice Prize, it's a fantastic record.
It must make touring so much easier when you have a good group of people to keep the spirits up?
As I've stressed in previous answers, it's hugely important to have as much of a professional set up as you can. It helps when the people you surround yourself with are genuine and it also helps when these people have the same goals and objectives as you.
Tour dates :
Win tickets to see The Ambience Affair, Slow Magic and Selebrities in The Pavilion, Cork here.
- The Ambience Affair play The Pavilion, Cork on Saturday, 10th March and Pine Lodge (Myrtleville) on Sunday, 11th March
- Doors at 9pm (€5) and 5pm respectively.
- Stream/Purchase Burials using the player below
theambienceaffair.com
www.bluestackrecords.com