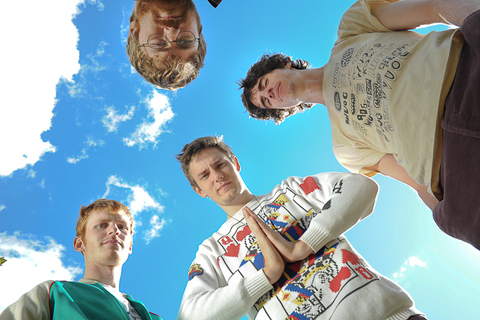 London record company
Lucky Number
- home to cosmic pop pirate
Darwin Deez
among others, recently and excitedly announced the news that they have signed hardcore pop punks
Reptar
.
The Athens quintet have signed a world deal (excluding U.S. and Canada) and are set to launch their debut single,
'Stuck In My ID'
, as a special limited 7"/CD pacakge on Record Store Day (April 21st). will be released physically as a very special limited seven inch single/CD EP package.
Ryan, William, Andrew, Graham and Poof Daunghty kicked up quite a fuss with their high energy live show at
SXSW
in 2011 and - judging by the ridiculously uplifting and infectious
'Rainbounce'
- are sure to become a festival favourite this Summer.
- Reptar have signed a world deal (excluding U.S./Canada) with Lucky Number
- 'Stuck In My ID' will be released on April 21st, Record Store Day
www.reptarmusic.com
www.luckynumbermusic.com