A round up of alternative music news from around Ireland.
New EP and Irish tour for Girl Band
Grimy Dublin rockers
Girl Band
are set to follow up the impressively sludgy single
In My Head
with a four track EP.
France '98
hits the shelves (both physically and virtually) on November 9th courtesy of independent record label
Any Other City
. The fiery foursome have also announced a few upcoming dates including a couple of chargrilled support slots with eccentric Norwegians
Honningbarna
. Get your first taste of the new EP and a full list of tour dates below.
Thursday, 8th Nov – Bourke's Bar, Limerick
Saturday, 10th Nov– Grand Social, Dublin
Thursday, 15th Nov – Roisin Dubh, Galway (w Honningbarna)
Saturday, 17th Nov – The Pavilion, Cork (w Honningbarna)
For more on
Girl Band
visit:
The Popgun Plot release on Flaming June
The Popgun Plot
are preparing the release of a shiny new eponymously titled record on
Flaming June
. Home to
Band of Clouds
,
Percolator
and several other intriguing Irish artists, the label encourages freedom within their artists resulting in a strongly bound community which of course breeds constant collaboration. As expected,
The Popgun Plot
have involved several talented buddies in the recording process so keep an ear out for the likes of
Laura Sheeran
,
Vyvienne Long
and more on
The Popgun Plot
when it comes out on November 2nd. Or stream it below.
For more on
The Popgun Plot
visit:
Latest Wingnut release
Simon Kenny aka 8-bit electrohead
Bitwise Operator
will release EPS
Carrot
and
Stick
as part of a double disc collection come November 2nd. Galway-based indy label
Wingnut Records
have stepped up to the plate to put Kenny's "retro-flavoured electronica" out into the big bad physical world. Stream both EPs below and make sure to pick up a copy from a local record store (in Ireland) if the tastebuds are tickled.
For more on
Bitwise Operator
visit:
New video from Wasps Vs Humans
Walking one-man-show
Wasps Vs Humans
has released a video for
'The Danger's in the City'
which you can stream below. The Cork-based punk-poet/author/playwright paired up with the Leeside-located multimedia talents of
Zombie Productions
(
Hope Is Noise
,
Screenreader
,
Time Is A Thief
etc.) to convey
Carl Plover
's stinging social commentary on film.
For more on
Wasps Vs Humans
visit:
Siege Limerick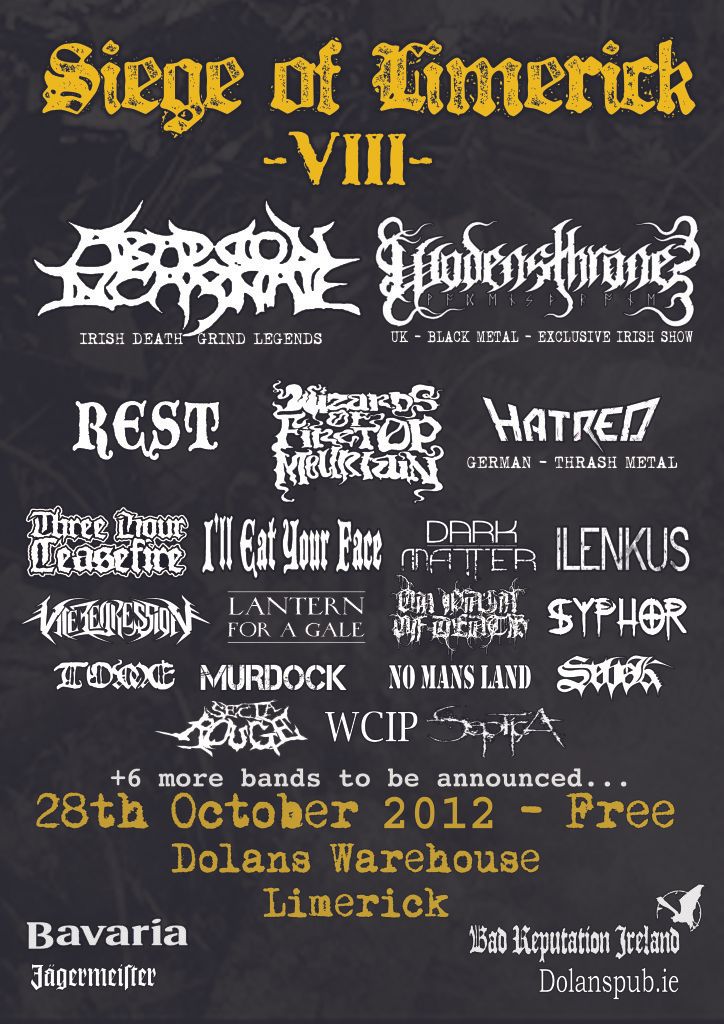 All remnants of goodness and light shall be purged from legendary Limerick venue
Dolan's
as
Siege of Limerick VIII
commandeers both upstairs and down for a Sunday made for metal.
For more on
Siege of Limerick VIII
visit: