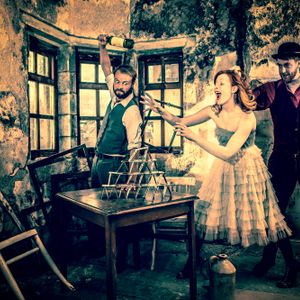 The Cork Music Show speaks to Sillk...
The Cork Music Show
welcomed Orla, Julian and Chris of
Sillk
to the show on Sunday with three quarters of the gypsy chamber folk quarter treating
Cork City Community Radio listeners to a couple of tunes live in studio.
Sillk launched new EP Time is a Clock on Friday 27th January with a special show in The Village Hall, Cork. Purchase the EP over on sillk.bandcamp.com.
Listen to Sunday's show in full using the player below.
To listen to future shows live,
listen here
.
Sunday's playlist:
Romance - Ellll
Snowglobe - Sillk (live in studio)
Silver Leather - The Altered Hours
In These Shoes - Camille O'Sullivan
The Art of Fire - Sillk (live in studio)
123 - Marlene Enright
My Pearl - The Whispering Pines
Fallow - Lōwli
Veronica - Sultans of Ping
Switchblades Don't Sleep - Sillk
The majority of the music heard on The Cork Music Show is available to purchase from Plugd Records on the 1st Floor of Triskel Arts Centre, Tobin Street, Cork
For more on
The Cork Music Show
visit:
- Tune in to The Cork Music Show 2-3pm every Sunday on Cork City Community Radio (100.5FM) for an hour only of Cork-only rekkerds.
- If you know of any new Cork bands drop us a line at corkmusicshow@gmail.com