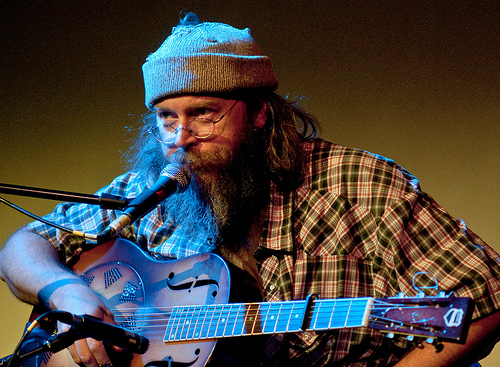 One Man
One Guitar
One Foot in the Grave
Well that is the official word from
Charlie Parr
anyway who barrels his bluesy brilliance back Leeside tomorrow night for a couple of
Crane Lane
dates thanks to Bandicoot Promotions. The fact that the incomPARRable (nice one Macca) one is playing two nights is great news for those who also hold intentions of making Kristin Hersh's 80s/90s alt-rockers,
Throwing Muses
. The Crane gets a little louder at the weekend as post hardcore band
U&I&
round off their UK & Ireland tour on Saturday.
On the local scene
Ladydoll
premiere their video for
'JF Sebastian'
on Thursday and the first heats of the CIT Battle of the Bands get underway in Cyprus Avenue not to mention the Occupy Cork benefit gig in
The Roundy
on Thursday.
Keep up to date with what is happening on the Cork live music scene by checking the regularly updated
Cork gig guide here
. Also don't forget about the
Cork Film Festival
which kicked off on Sunday night.
November 8th - Bandicoot Promotions presents Charlie Parr in The Crane Lane Theatre
November 9th - Bandicoot Promotions presents Charlie Parr in
The Crane Lane Theatre
November 8th - CIT Battle of the Bands Heat 1 in
Cyprus Avenue
November 9th - Throwing Muses in
Cyprus Avenue
November 9th - The OBCD in An Bróg
November 10th - Ladydoll (video launch and live show) in The Crane Lane Theatre
November 10th - Guitar Showcase featuring Gavin Moore, lowMountain and more in
Scott's
November 10th - Occupy Cork Benefit Gig featuring Stanley Super 800, Aaron Dillon, Annette Buckley and more in The Roundy
November 10th - CIT Battle of the Bands Heat 2 in
Cyprus Avenue
November 10th - Junctions #5 - New Traditional Music Encounters in The Pavilion
November 11th - Ryan Sheridan in Cyprus Avenue (8pm)
November 11th - Late & Live featuring The Kanyu Tree in Cyprus Avenue (11.30pm)
November 11th - Echogram in The Crane Lane Theatre (9pm)
November 11th - Relish in De Barra's (Clonakilty)
November 12th - Bandicoot Promotions presents Acid Mothers Temple & The Melting Paraiso U.F.O. in
The Crane Lane Theatre
November 12th - John Cooper Clarke in The Pavilion
November 12th - Noize Culture featuring Joachim Pastor in
Cyprus Avenue
November 12th - &U&I and Shapes in The Crane Lane Theatre
November 13th - Marc O'Reilly in
Cyprus Avenue
November 13th - Souldriven in The Crane Lane Theatre (9.30pm)
November 14th - The Koubas in The Crane Lane Theatre